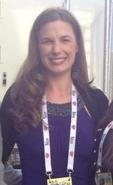 About The Owner

---

Juli Pritchard is a trusted Producer with more than a decade of experience in radio, television, and live events.

Since starting Juli Pritchard Productions in June 2011, she has had the privilege of producing screens and/or graphics content for the Grammy Awards, Primetime Emmy Awards, Academy of Country Music Awards, Lexus National Dealers Meeting, BET Awards, Miranda Lambert's 'Platinum' Tour, and several other prestigious shows and live events.

Prior to starting her own company, Juli spent 5 years as the Senior Producer at Mdots Design, where she produced graphics packages, promos and screens content for such high-profile clients as the Grammy Awards, Primetime Emmy Awards, Tony Awards, Lexus, Disney, TiVo, NBC, Superbowl Halftime Show starring Prince, and the 2008 Democratic National Convention.

Before joining Mdots, Juli produced radio and television commercials for local, regional and national clients including Amtrak California, Baja Fresh, Brand Source, Save Mart grocery chains, Coeur d'Alene Casino, U.S. Representative George Nethercutt, and Dodge Ridge Ski Resort. Several of these spots won local Addy Awards, including the 2006 Sacramento Best of Show for a non-traditional marketing campaign. She has also produced long-format and corporate videos for Albertsons, Biopol Laboratories, American Red Cross, and Coeur d'Alene Casino, and has worked behind-the-scenes on EPKs for independent feature films.

Having worked at a design boutique, a production company and an advertising agency, Juli has experience operating on all levels of the client-vendor spectrum.

When she's not producing, Juli enjoys traveling with her husband, SCUBA diving, singing in an all-women barbershop chorus and quartet, trying new foods, cheering on Washington State University athletics, and taking on as many exciting and unique adventures as her busy schedule allows!

---